Over the past several decades, much has changed in the HVAC industry including methods of production, technologies, changes in the workforce, and more. In this post, we will discuss where the HVAC industry has come from and what has changed to get where we are today.
Production speed, volume, and demand
Duct forming today is much more fast paced today than in the past. The duct forming technology as well as construction has definitely picked up, I think that construction in general man hours are probably the same, but the construction has probably almost doubled. So technology is a big change in the industry that I've noticed over the last 25 years, it's just evolved. So much so that the contractors are now much more savvy than they were back in the mid '90s
when the market was, if I'm not mistaken, 40 inch coils, and we were just moving to five foot duct. That additional foot makes a big difference as far as how many joints you have to hang in the field, that was a big change in the evolution that Welty brought into the industry from adding on insulation, fasting, roll forming joints and all that today, duct line used to cost $250,000, it's now $1 million plus, maybe. And there are a lot of things on that line that weren't even contemplated back 40, 50 years ago.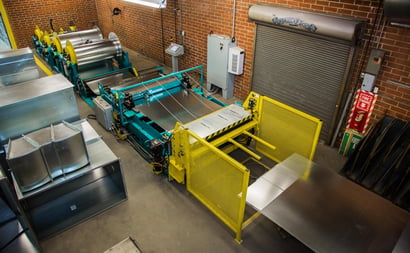 Machinery and Technology
Many additions have been made to the rollforming line since the early days of HVAC duct forming. Many major developments in fabrication machinery and technology pertain to adding processes to the roll former, including:
Insulation

Joints

Fasting
While this technology was led to increased productivity and output, it also impacts the investment in your roll former. While a duct line used to cost $250,000, it can now be $1 million plus, thanks to all the tools that are now on that line that weren't even contemplated 40 or 50 years ago. This is all the more reason to carefully consider what machinery you really need when it comes to purchasing new equipment or adding to your line.
Labor
The labor pool, as well as the amount of labor it takes to form duct, has changed since the 1970s and onward. Most owners and contractors would tell you that their ideal situation would include the less input, more output, and less chance of human error. With advancements in automation and labor-saving innovations, as well as the amount of training and the push to get young people interested in manufacturing trades, the role of human labor in HVAC is far different than it used to be.