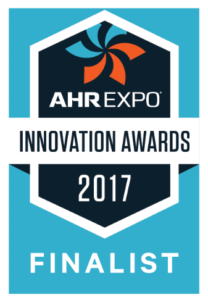 Mestek Machinery, of Cedar Rapids, Iowa, has been recognized by the AHR Expo and its co-sponsors (ASHRAE and AHRI) as being a Finalist in the Tools & Instruments Category of the 2017 AHR Expo Innovation Awards Competition for its Pro-Fabriduct® Manufacturing System.
The Pro-Fabriduct® is a modular designed processor that integrates over 20 manufacturing processes into one combination residential/commercial rectangular duct manufacturing system. It is compatible with Auto Desk CAD MEP/CAM MEP, Trimble DD3D/Vulcan CAM, Sysque CAD/ Vulcan CAM, East Coast Cad/CAM, Draw Tech Cad, CAD Pipe, Webduct, and Shop Data CAD/CAM. The system is the fastest, most integrated, accurate, and reliable processor on the market- with the capability of taking a six person operation down to one. It is this same speed and accuracy that has resulted in Mestek Machinery's recognition as a finalist in AHR's national Innovation Awards Competition.
The company will be exhibiting in this year's show as well, in booth 1530.
The 2017 AHR Expo will be held in Las Vegas, Nevada from January 30-February 1, 2017. Mestek Machinery will be exhibiting at the exposition in booth #1530, where you can see the Pro-Fabriduct® system in action. The 2017 show will host more than 2,000 exhibitors and and over 60,000 visitors from 150 countries.
---
Mestek Machinery is the industry-leading designer and manufacturer of productive and innovative metal forming solutions for HVAC sheet metal fabrication. Mestek Machinery has a long history of providing reliable and long-lasting duct work machinery and sheet metal bending equipment. As an industry-leader, the Mestek family of companies includes Lockformer, Engel Industries, ISM by Lockformer, Iowa Precision and many more, bringing decades of experience addressing every aspect of the HVAC industry.