Whether your sheet metal shop is just getting started with forming duct or simply needs a machine to supplement production from your duct line, a brake press can be instrumental in your workflow. For a safe, dependable, and easy-to-use sheet bending machine, the

Lockformer Pneuma-Wrap Pneumatic Brake Press is ideal for L, flat, wrap, transverse duct connector (TDC), and transverse duct flange (TDF) duct.

Key Stats

Capacity: 7″ up to standard 5′ duct
Air consumption: 11 CFM @100 PSI
Dial-adjustable bend angle: 0 to 90°
Length: 58.5"
Width: 24"
Height: 41"
3,500 lbs.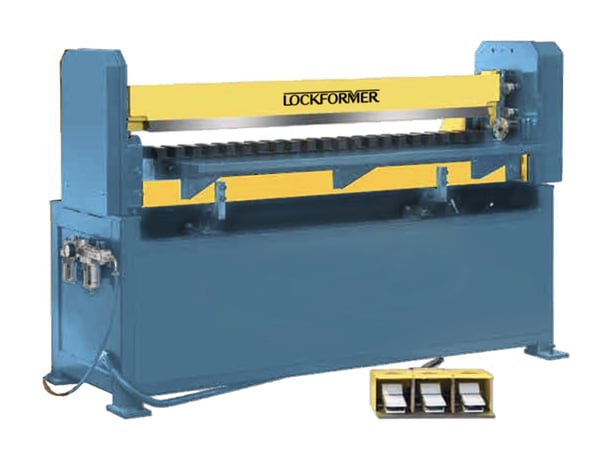 Getting to Know the Lockformer Pneuma-Wrap
The Lockformer Pneuma-Wrap is a fully pneumatic machine, meaning it runs on air pressure, and it operated manually. The machine's three foot pedals are pressed in sequence to perform the bend. Because the procedure is fairly simple and the machine is intuitive to use, the Pneuma Wrap does not require specially skilled techs to operate after some simple instruction and training.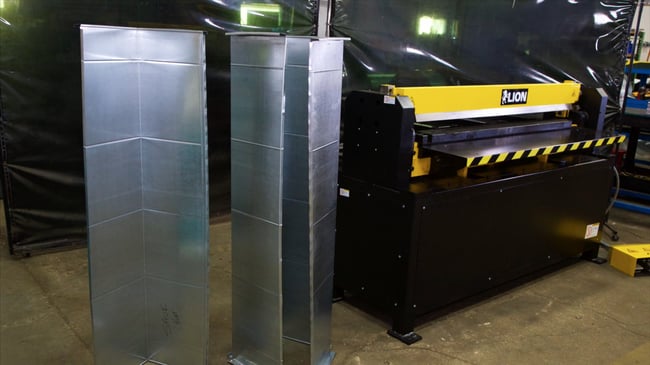 *NOTE: this machine was made by Lion Industries which was absorbed into the Lockformer brand
In many instances, the Pneuma-Wrap is a great option for fabricators looking for auxiliary machinery to use as a stand-alone duct or sheet bender. While plain sheet metal can easily be bent in the Pneuma-Wrap, the machine can also accept full pieces of TDC duct because clearances have been made on the bending knife to allow the TDC profile to clear the bend.
Thanks to its size, simplicity, and versatility, the Lockformer Pneuma-Wrap is a great option for sheet metal fabricators looking to get started with duct forming or supplement their ductline with a brake press.
To learn more about the Pneuma-Wrap Pneumatic Brake Press,

click here

.