The Pittsburgh lock revolutionized the HVAC industry in the late 1940's and is still used today for its strength and ease in assembling ductwork. And for nearly that long, the Lockformer Pittsburgh Lock Roll Formers have set the standard for product quality and performance.

Pittsburgh lock roll formers form the Male and Female profiles used in the HVAC industry for constructing seams for duct fittings and other duct work. Generally, these profiles are used to connect longer sections of straight, square or rectangular duct, though they may be used in other situations depending on the contractor's needs.

Key Stats

Capacity: 20-26 Gauge
Depth of pocket and edge adjustability: 5/16" 3/8"
75 fpm – compared to 25 on the regular
Matched double v-belt vs v-belt on the regular
2 hp vs 3/4 hp on the regular
230/460 volts
6/3 amps
450 lb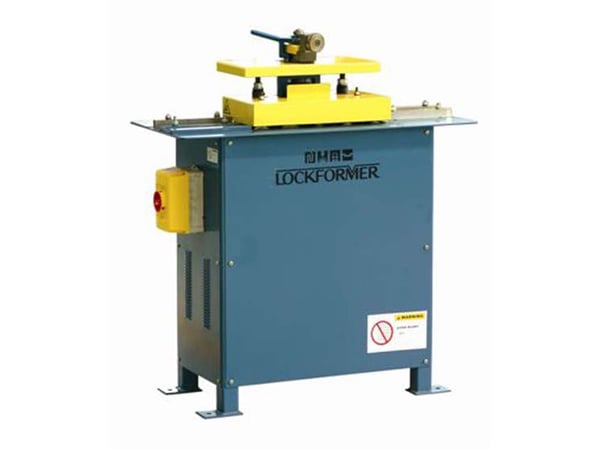 Getting to Know Pittsburgh Lock 20 Super Speed Roll Formers
Since its release in 1937, the Lockformer Pittsburgh Lock Roll Former has been the industry standard for a practical lock forming machine because of its speed, and the 20 Super Speed (SS) model cuts the time required for making duct even more so than other models. In fact, the Pittsburgh 20 SS processes sheet metal pieces and allows mechanical contractors to make the Male and Female seams 3x faster than even the Pittsburgh 20.
The Pittsburgh 20 SS is designed for a 20-26 gauge capacity, while Lockformer's other Pittsburgh Lock models can handle other gauge ranges.
To use the machine, the operator feeds a piece of sheet metal against the fixed edge guide and pushes the part into the first roll station. The sheet comes out of the other side with 1 edge formed with either the Pittsburgh profile or one of the auxiliary roll set forms. In the shop, sheet metal will typically leave the cutting table before being hand fed into the Pittsburgh lock in order to form the necessary seam profiles.
The Lockformer Pittsburgh 20 Super Speed allows the shop to fabricate parts and in a rapid manner. The SS can process up to 75 feet of sheet metal every minute. This allows the company to increase the overall output of the shop, increasing efficiency as well as profitability.
Available in six (6) different configurations with varying capacities, configurations, and forming speeds to fit your specific operational needs, all Lockformer Pittsburgh Lock Roll Formers feature industrial motors, high precision needle-type bearings, heavy 3/4″ chassis plate, case-hardened and ground roll shafts, and arc-welded steel stands protected with Lockformer's top-quality primer and paint finish.
To learn more about Lockformer Pittsburgh Lock Roll Formers,

click here

.