The Cornermatic Plus line is a completely hands-off approach to inserting TDC- and TDF-style corners.
The Iowa Precision Cornermatic Plus HVAC Ductwork Corner Inserter Machine automatically inserts TDC- and TDF-style corners and crimps them in less than 45 seconds per connection. The corners come in Strap Pak packaging at 80 corners per pack. The Cornermatic Plus can handle a gauge range from 16-26ga down to 2" throats.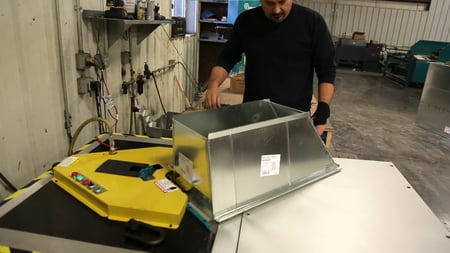 The Cornermatic Plus is a freestanding, above-ground, table top machine, with features including:
Full automation — no switches or foot pedals, simply push the fitting in and the Cornermatic Plus does the rest.

The ability to complete 8 corner inserts in seconds.

New quick-loading StrapPak™ packaging technology that speeds loading of the magazine directly from the shipping carton.

Corners fed from below the work surface, allowing a clean and unobstructed work area.
The Cornermatic Plus Versa HVAC Ductwork Corner Inserter Machine provides all the benefits of the Cornermatic Plus, but with the added flexibility some contractors need to suit production. The Versa is installed with the capability of sitting on the workshop floor or in-ground and can be raised and lowered with a simple button press. Using the Versa in-ground is beneficial for projects involving large duct or heavy gauge fittings, while the above-ground position is ideal for fitting production.
The Right Machinery to Improve Shop Flow
When your shop thrives on productivity, you need the right solutions and equipment to keep your fittings fabrication process moving. Obstacles to a quick, efficient shop flow not only hinder your productivity and profitability but the quality of your finished product as well. Thankfully, if you're experiencing challenges with fabrication shop flow, you're not alone, and you can improve your productivity and flow with the right machinery, setup, and processes. Mestek Machinery is here to help you find the solutions and equipment for more efficient fittings production.
If you're ready to learn more about improving your shop flow with the Cornermatic Plus and other equipment from Mestek Machinery, check out the clip below and then register to watch our full shop flow video.